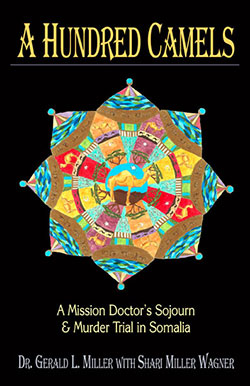 Just Published by Cascadia:
A Hundred Camels: A Doctor's Sojourn and Murder Trial in Somalia
by Gerald L. Miller, M.D. and Shari Miller Wagner
Available: June2009
Pages: 228

Prices: $13.95US/$14.95Can.
ISBN 13:978-1-931038-54-6
As this suspenseful, true-life drama of a doctor's trial for a patient's murder unfolds, readersare given access to an ancient, clan-based culture few Americans have experienced in a country recently declared by the United Nations as a humanitarian crisis "worse than Darfur."
"This vivid, compelling story becomes a vehicle of beauty—the kind that wounds as we recognize our own fears and prejudices but also the beauty of a compassion that heals."
—Jean Janzen, Fresno, California, is an award-winning poet, whose most recent collection of poetry is Paper House.
"Underneath the excitement of the courtroom drama, murder trial, and many escapades in a new culture, lies the story of how one man's spirit grew."
—Shirley H. Showalter, in the Foreword

For more details, download an information sheet (PDF) or visit the publisher's website.