Jesse Nathan has just published a chapbook with Milk Machine Press in Oakland, California. This limited edition of 250 copies, is accompanied by a CD with Nathan's readings of the poems in concert with original compositions by Chris Janzen . The book contains seventeen poems - one poem for each guest at a dinner party thrown by our gracious host, Virginia Woolf. The chapbook is entitled:

Dinner, or A Deranged Event Staged in a Theoretical Mansion in Which Time and History Have Been Grossly Dismembered and What We Know as the Laws of Physics Wildly Subverted, Conducted as an Inquiry into the Genius of Madness and the Art of the Faux Pas, and Having as a First Course to be Served to a Cast of Sixteen Eccentrics A Dish of Carrot Cabbage Salad Meant to Tickle Every Palate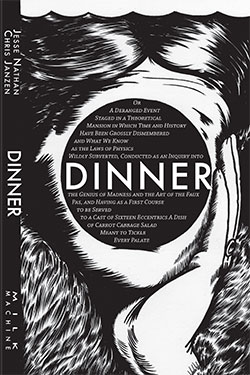 Read a poem from the chapbook at the Milk Machine Press Facebook page .
The book is available for $12.00 plus $3.00 shipping and handling fee from Milk Machine Press. To order a copy, download the order form or send a message to
milkmachinestore@gmail.com

Jesse Nathan lived in Berkeley until he was ten, and then he lived on a farm in Kansas. He attended Bethel College, graduating in 2005 with degrees in history and religion. Nathan lives in San Francisco. He co-produced a documentary on the Great Trek of the Russian Mennonites to Central Asia called THROUGH THE DESERT GOES OUR JOURNEY, and his writing has appeared in The San Francisco Chronicle , Tin House , Adbusters , The Believer, Sojourners , and elsewhere. He's an associate editor at McSweeney's publishing, the managing editor of The Best American Nonrequired Reading , and a contributing editor at theRumpus.net.

Chris Janzen was born in Freeman, South Dakota, and lived in Kalona, Iowa, before moving with his family to Fresno, California. Janzen was raised in the Mennonite Church, and received a B. A. in Art from Bethel College in North Newton, Kansas. While at Bethel he became actively involved in painting and guitar playing in the Newton/Wichita jazz scene, performing music based on his paintings and exhibiting his art alongside concert performances. Janzen has an MFA in Painting from South and now teaches studio Art at Fresno Pacific University where he also directs the Jazz Ensemble.