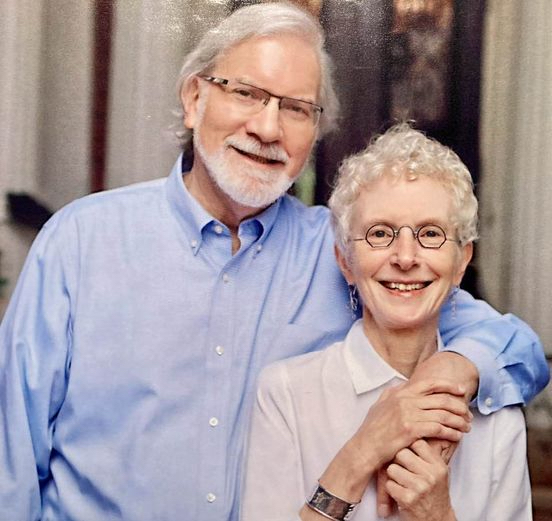 One version of the story of the flowering of literary arts among Mennonites in the U.S. begins in 1968 when Merle Good's play Strangers at the Mill opened at the Guernsey Barn theater in Lancaster County. It was the first of twelve very popular plays by Merle, produced in ten summer seasons, through 1977.
At the conference on Mennonite Drama in Kansas City in 1974, I gave a lukewarm review of these plays, based on reading a few texts and never having seen a production. Older now, and wiser, I see them differently. They constitute an amazing outburst of local, Lancaster Mennonite culture, featuring a local playwright, performance venue, performers, composers, and large Mennonite audiences. The scripts were important, but perhaps even more important was bringing to the generally conservative Mennonites of Lancaster County the pleasure and validity of theatrical performance—of Mennonite literature.
Two years following the first production, in 1970 Merle and Phyllis established Good Enterprises, Ltd., a for-profit venture intended to market goods and programs dealing with Amish and Mennonite culture and faith. In 1973 they released the feature film, Hazel's People, which, I think, remains the best film made of the classic virtues and inherent conflicts of Mennonite life. It was based on Merle's novel, Happy as the Grass Was Green (1971). In 1974 came Festival Quarterly, which reported on and reviewed Mennonite achievements in the arts. It lasted through 1996, a total of 22 years, longer than any other Mennonite arts publication.
In 1976, Goods opened "The Peoples Place," a cluster of buildings in Intercourse, Pennsylvania, consisting of an interpretation center, craft shops, quilt and folk arts museum, galleries, café and other venues for visitors interested in Mennonite and Amish experience. It also became a center for educational seminars, including at least eight annual writers' conferences, beginning in 1978—twelve years before the first Mennonite/s Writing Conference in 1990. Rudy Wiebe and Katie Funk Wiebe were presenters at the first People's Place conference. In 1990 they sent a young Julia Kasdorf from Brooklyn to Waterloo to cover the first Mennonite/s Writing conference for Festival Quarterly.
From 1979 to 2013, their Good Books brand published over 1000 books by more than 100 authors. Three of them have appeared on the New York Times best-seller lists. An early book, Three Mennonite Poets (1986), edited by Phyllis, was prescient regarding the direction that Mennonite literature has taken. Still in print, the book presents poems by David Waltner-Toews, in Canada; Jean Janzen, in the U.S.; and Yorifumi Yaguchi, in Japan. It was the first book to acknowledge the trans-national possibilities of Mennonite literature.
Other important Good Books include the fiction of Sara Stambaugh, Omar Eby, Levi Miller, Evie Yoder Miller; the poetry of Jean Janzen and Yorifumi Yaguchi; and life writings by Yaguchi, Janzen and Rudy Wiebe. Merle has written children's books and, in recent years, Phyllis became nationally known for her very successful "Fix It and Forget It" cookbooks, which have sold millions of copies. Other Good Books have promoted Mennonite and Amish folk arts, and interpreted Anabaptist ideas and cultures to the general public.
Good Enterprises filed for bankruptcy twice, in 1996 and 2013. The 1996 creditors were later repaid, and with a bonus toward lost interest. Ever resilient, both Merle and Phyllis continue to write and publish books, now under the Walnut Street Books label, including Merle's novel Christine's Turn (2022). Merle's play The Preacher and the Shrink was produced Off-Broadway in 2013. Phyllis's No Recipe? No Problem! (2021) was published by Storey/Hachette.
A persistent theme in their work has been "people." It first appeared in the film Hazel's People, (1973); the plays These People Mine (1973) and What a Peculiar People 1975); and then in their destination village, "The People's Place" (1976), which they regarded as a "peoplehood center." In his review in Festival Quarterly (May 1977) of the tenth anniversary of their Guernsey Barn productions, Merle refers to "my people" and twice to "my own people." Who are these "people"? They are the "our people" of my mother and of Our People (1983), Levi Miller's book about Ohio Mennonites. They are the Mennonite community.
The Goods have been dedicated to the welfare of the Mennonite Church. They are active members of their Lancaster congregation; they have served on committees and boards of the Mennonite Church--local, national and global; and they have published books that support the church's mission—most notably, the five-volume "Global Mennonite History Series" (ed. John A Lapp and C. Arnold Snyder). For 25 years they were volunteer communications consultants and writers for Mennonite World Conference, relating to Mennonite artists throughout the world.
Good Enterprises at times has had detractors. Since 1968 I have observed the Goods' work from a distance, and I admire their many achievements. This tribute to their support of Mennonite literature and the Mennonite Church is overdue.